E-mail marketing er til dato [yup den er god nok] et af de mest effektive redskaber til at engagere og modne dine leads, drive salg i din webshop og skabe loyale og tilbagevendende kunder.
Desværre, så er e-mail marketing også det forsømte barn i mange familier (læs: virksomheder).
Noget af det, vi i stwentyfive hører ofte er:
"Nyhedsbreve – det bliver lige, når jeg er færdig med de andre opgaver"
"Jeg ville gerne have mere tid til det, men når jeg har svaret på kundemails, pakket ordre og klaret alle administrative opgaver, så bliver det altså lidt med venstre hånd…"
Kan du genkende det fra dig selv?
Men hvad hvis jeg fortæller dig, at du med 3 simple e-mail automation flows kan forvandle din e-mail marketing kanal fra en slatten "Doven Robert" til en "Mean Money Maker"? Der endda laver omsætning til din shop 24/7 365 dage om året. Det er altså, mens du fokuserer på at drive din forretning.
Og hvis jeg så også fortæller dig, at du kan have alle tre flows opsat på én dags arbejde.
Den er god nok.
Hvis du læser med her, så viser jeg dig alle 3 automatiserede flows der kan skabe omsætning, og viser dig nogle af de resultater, som vi har skabt for andre webshops med lige nøjagtig de her 3 flows.
Det lyder måske lidt banalt, men dit velkomstflow er langt det vigtigste e-mail flow.
Du kan sammenligne det lidt med første date. Det er her, du sætter tonen for, hvordan resten af jeres forhold bliver (og om der overhovedet bliver et forhold).
På en første date ønsker du at vise dig frem fra din bedste side. Du trækker stolen ud, lytter aktivt og engageret, byder ind med, hvem du selv er – og hvis du er heldig, så behøver aftenen ikke at slutte med kun middag.
Hvis du tar den tanke og overfører til e-mail, så skal fokus for dit velkomstflow være at:
– Byde velkommen
– Segmentere din nye subscriber
– Gøre kunden klogere på dit brand og dine produkter
– Få kunden til at foretage det første køb
Her kan du se et eksempel velkomstflow, vi har sat op for en kunde, der sælger sportstøj og udstyr i Danmark, Sverige, Norge og Finland.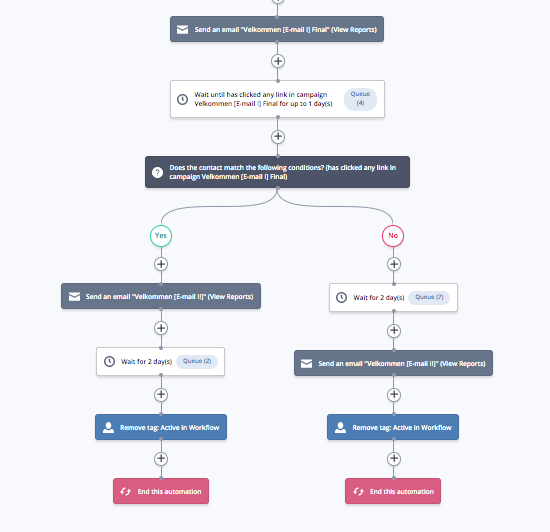 Den første mail i flowet har i skrivende stund en open rate på 75% og en click rate på 57%. Siden vi startede med at lave e-mail marketing for kunden er e-mail gået fra at stå for 0,4% af den totale omsætning til at stå for 11,22% af den totale omsætning.
Lige præcis det her flow har omsat for over 200.000 på lidt over 3 måneder.
Men endnu vigtigere, så er der høj engagement – hvilket løfter resten af din e-mail performance, da det sender et budskab til indbakkerne, at dine mails er relevante for læseren.
Klik her for at få et gratis sundhedstjek af din e-mail marketing…
#2 Abandoned Cart Automation Flow
"Er du klar over, at du i sidste måned havde 177 forladte kurve på din shop? Med en gennemsnitlig ordreværdi på 700 kroner. Du gik potentielt glip af 123.900 kroner i tabt omsætning!"
Det budskab gjorde ondt at høre, da jeg spurgte en gammel veninde, hvorfor hun ikke havde opsat et "forladt kurv" e-mail flow.
Det havde hun ikke tænkt over – og det er hun ikke alene om!
Det smukke ved e-mail marketing er, at du kan ramme folk med skræddersyede budskaber, når de er klar og modtagelige for det.
Tænk lige over det…
Lise (lad os kalde den her fiktive person Lise) har givet dig accept til at sende nyhedsbreve – og hun har tilmed været på din shop og lagt ting i kurven, men er af gud-ved-hvilken-årsag kommet fra at gennemføre købet. Det er nu din opgave – nej, det er din pligt – at yde den service, at minde Lise om, at hun glemte dine lækre produkter i kurven på shoppen.
Det her specifikke abandoned cart flow har en open rate på 65%, en click rate på 35% og en recovered cart rate på 17%.
VIGTIGT: Husk at have et flow, der trækker folk ud af flowet, så snart de har gennemført købet. På den måde irriterer du dem ikke med mails om en forladt kurv, når de lige har svunget kortet.
PRO TIP: Vælg et e-mail system, hvor du kan vise de produkter, som "Lise" glemte i kurven, direkte i e-mailen, så hun kan se, hvilke produkter hun glemte.
#3 "Thank You" e-mail flow (ordrebekræftelse)
Tak – det ord kan man ikke sige for mange gange!
Hvis du ikke allerede gør det, så bør du bruge alle chancer, du får, til at sige tak til dine kunder for at købe hos dig – og husk også at belønne dem.
Lad os for et øjeblik vende tilbage til date eksemplet…
Forestil dig, at daten gik udover alle forventninger – det gik faktisk så godt, at I endte med villa, volvo og vovse… Men selv de største kærlighedshistorier ender i en helt almindelig hverdag.
Og det er her, at du viser dit værd!
Det her handler godt nok om e-mail, men her er lige et pro-kærligheds tip:
"En uventet gave på et uventet tidspunkt er nøglen til et langt og lykkeligt forhold"
Det handler om at holde liv i kærligheden, og det samme gør sig gældende i dit forhold til dine kunder – og her er e-mail marketing uden sammenligning den bedste "love-channel".
Sig tak, når dine kunder foretager et køb i din webshop. Beløn dem, når de kommer tilbage 2., 3, og 4. gang. Alt for mange gange, giver vi 10-20% rabat for at få folk til at foretage det første køb men glemmer at belønne de loyale kunder.
Det skal selvfølgelig ikke ende i en stor rabatfest!
Men en uventet gave på et uventet tidspunkt gør underværker, og får kunderne til at komme igen og igen.
Og endnu vigtigere – de anbefaler dig også til venner og familie.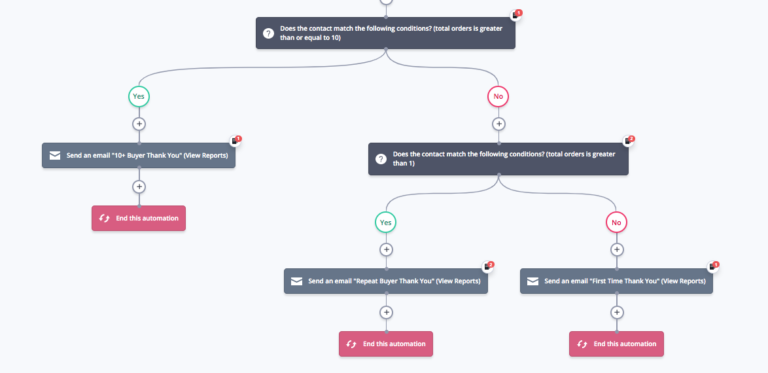 Hvis du er rigtig snedig, sender du en "thank you" mail et par dage efter kundens sidste køb, hvor du måske giver et gavekort samt anbefaler kunden, hvilke produkter der supplerer det produkt, som de lige har købt.
Resultatet…
✓ Højere kundetilfredshed
✓ Højere genkøbs rate
✓ Højere kundeloyalitet
✓ Højere kundelivstidsværdi
Det her er egentlig ikke marketing – det er "bare" skide god kundeservice. Og god kundeservice slår marketing 10 ud af 10 gange.
Hvis du nu sidder og tænker, at du stadig ikke har tid til at gjort noget ved din e-mail marketing, så klikker du bare på knappen herunder.Så giver vi dig en GRATIS potentialevurdering af din e-mail marketing.
Fortsat god dag!